Sometimes, I do very frivolous things to feel in control of my life and to not be sucked up by technology and modern etiquette: a hand written thank you note (always) or letter, beautifully wrapped presents, monogrammed gifts that show you took time and effort to obtain them. One of my favorite pieces of etiquette is a calling card, or visiting card.
Once used for the upper class to "call" on their friends and neighbors socially, it began in France as early as the 1800's and became most popular in the Victorian era, as did many proper things.  The cards were dropped in an urn, basket, or tray by the door so people would know who had called on them, whether they were home or not. A card was a reminder of correspondence, to say thank you for the social call or to set up one in return or for the future.
They were also used to announce births, engagements, marriages, deaths, notes of sympathy, and other social landmarks, just as (the most proper of us) do today, through an announcement, card, or gasp – an email.
Modern day calling cards usually have as little info as possible (ehem, Patrick Bateman) and have no sign of corporate conformity. It's a representation of personality, style, sophistication (or lack there of). I'd use this as the place to show off your style, as opposed to a resume as so many of the ones I see these days do. It should be restrained and flirtatious, and fit with this neo-trad, heritage movement we're so fond of. Show off how clever you are!
I am in the market for new calling cards and am having a tremendous time choosing new ones! Which do you like from the below? I've included more budget-friendly options as well as aspirational letterpressed sets for which I will probably have to wait a long time to get.
Pixelimpress @ Etsy
$25 for 50 custom cards
LetterLoveDesigns @ Etsy
$15 for 20 custom cards
Naomilynn @ Etsy
$14 for 50 custom cards (GREAT deal!)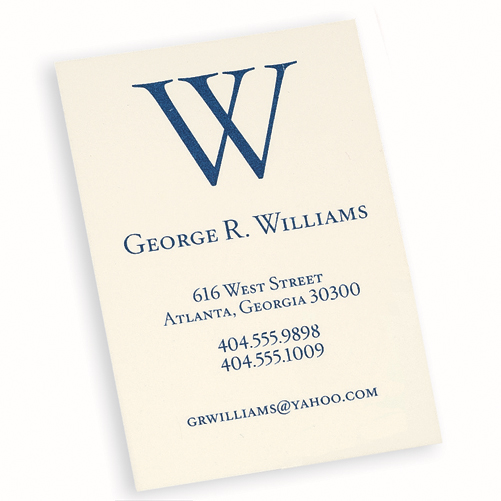 $44.95 for 100 custom cards
candiceenkatiesart @ Etsy
$26 for 48 custom cards
Readygo @ Etsy
$20 for 48 mini custom cards
Iomoi (of course!)
$68 for 50 custom cards – loads of designs. It took me forever to even figure out which one I was going to use as an example.
Call 212.686.5953 for pricing. Do you die for this card? I love it! So cheeky!